After a busy Saturday you would be forgiven for thinking Sunday would be a day of rest. However, there is still plenty on offer.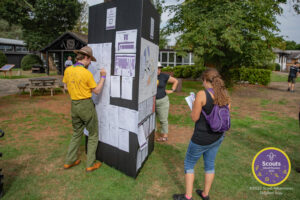 If you're game you can kick of Sunday with some Zumba in the AGM marquee on the Branchet Field (this is a change of venue) training ground at 0900. Not your style, how about joining the Inclusion Team for Brunch with flags (BYOD) at 10.30 on Buffalo Lawn. Warhammer and Raspberry Pi will be back in the White House Barn, while Bushscout Skills Village will be open again if you are still working towards their special badge.
The wide range of workshops continue to be on offer across site until 13.00 including the Gilwell Park Heritage Tour, leaving the White House Lawn at 10am and a session on the Money Skills Activity Badge in Jack Petchey Lodge at 11.45.
If you don't have to dash away do stay for Scouts Own on the Training Ground at 13.00 and take time to reflect on the Scouting year ahead surrounded by other volunteers.